Event Calendar
Royal Gorge Philharmonic


Southern Colorado's Symphony Orchestra
Works by Masonic Composers
Music By The Masters
Saturday - March 26, 2022 @ 4:00 pm - 6:00 pm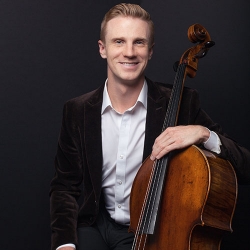 Music By The Masters is a Scholarship Benefit Concert of Mozart, Haydn, Beethoven & Sousa featuring Matthew Linaman as our 'Cello Soloist. This concert is graciously sponsored by Mount Moriah Masonic Lodge #15 of Cañon City, Colorado and a grant from the American Federation of Musicians.
The Event will be held at the Steeple Events Center at 701 Macon Ave in Cañon City. Tickets are FREE to the public, however advanced reservations are required. Very limited tickets might be available at the door on the day of the concert.
Soloist Matthew Linaman
Matthew Linaman has performed in over 15 countries both as a soloist, teacher and as cellist of the Cello Street Quartet. He has spoken on the TED stage and served as a Music Ambassador for the U.S. State Department. After receiving the coveted Dean's Award for outstanding contribution to chamber music at the San Francisco Conservatory of Music (SFCM), and winning the annual Concerto Competition, Matthew graduated from SFCM in 2013 where he studied with award-winning french cellist Jean-Michel Fonteneau. He now serves on the faculty of the Pre-College program at the Conservatory.
Matthew began playing cello through his elementary school music program in Reno, Nevada at age 11. He studied privately with Emily Uhlman while attending Reno High School, performing in Gerry Willis's music class, until being accepted into the Pre-College Division at the San Francisco Conservatory of Music at age 16.
Conductor
Gerry Willis is an experienced music director, composer, manager and guest conductor of students, professional ensembles and musical theater productions; he has been an educator and administrator for over 40 years in public private K-12 Schools, and Colleges.
Before moving to Canon City, he was teaching Music Education courses and Director of the Brass Choir and Symphonic Band at Cal State University-Los Angeles, He was previously a Lecturer in Bands and Music Education at Sacramento State University, conducting collaboratively the Wind Ensemble, Concert Band and Marching Band. His conducting positions have included Conductor of the Las Vegas Youth Symphony, Reno Youth Orchestras, The Ruby Mountain Symphony and Music Director of the North Lake Tahoe Symphony and Orchestra.
Gerry was featured on Inside Edition, when he conducted one of his original compositions at the Presidential Inaugural Celebration in the Capitol Rotunda in Washington, D.C. Gerry received NBC affiliate KRNV's Excellence in Education "Teacher of the Year" Award and was honored by the Nevada State Legislature when it enacted NRS 235.035, making Gerry's composition Silver State Fanfare Nevada's Official State March.
His original compositions for orchestra, string ensembles and concert bands have been used by or licensed to EA games, HULU Television, the 75th Golden Gate Bridge Anniversary and can even be found on Ring Tones.
Gerry's composition and conducting span four continents: from Mondavi Hall in California to The Colonnade in Mariánské Lázně, Czech Republic, to Rittmann concert Hall in Shanghai, China.
His recent scoring of "The Elevator", a short dramatic film will be premiered at Sundance and other film festivals in the fall of 2022.
The Royal Gorge Philharmonic recently presented a world premier performance, "As Foretold" by Gerry Willis to a standing-room-only crowd at the Steeple Events Center to a standing ovation and many requests to have the work performed next Christmas.
---
---
The Royal Gorge Region's First Ever Symphony Orchestra
Come Hear The Best Of Classical And Contemporary Favorites