Concert Information
Royal Gorge Philharmonic


Southern Colorado's Symphony Orchestra
"Sounds Spectacular"
The 2022 Inaugural Season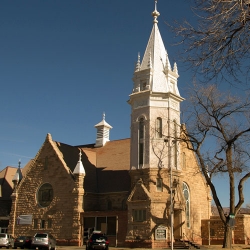 We are thrilled to announce the upcoming 2022 Inaugural Season of the Royal Gorge Philharmonic. As we prepare for our debut in Southern Colorado, we humbly ask for your support to help us continue to bring live, classical music to Cañon City. Please join us for one of our inaugural season shows, which will feature local musicians in the beautiful Steeple Event & Conference Center.
Steeple Event & Conference Center Location
701 Macon Ave.
Canon City, CO  81212
The orchestra is preparing concerts that include the following:
---
Concert ONE: "Music from Masonic History" Music by Masonic Composers. (March 2022)
Scholarship Concert sponsored by Mount Moriah Masonic Lodge #15 Canon City.  Proceeds to benefit scholarship awards to Freemont County high school seniors.
Music By The Masters - Works By Masonic Composers
Mozart – Overture to "The Magic Flute"
Haydn – Concerto for 'cello and Orchestra
Matthew Linaman, soloist (San Francisco Chamber Orchestra)
Beethoven – Symphony #8
---
Concert TWO: "Water Music" (April 2022)
Willis – The City Beautiful (world premier), an overture for the 150-year celebration of Canon City
George Fredric Handle – Water Music
---
Concert THREE: "The Cowboys- A wild west musical tribute" (May 2022)
Williams – Movie Overture from "The Cowboys"
Copland – Appalachian Spring
Selections from great movie westerns, including "How the West Was Won", "The Magnificent Seven"
Copland – "Rodeo"
---
Centennial Park free concert "The Big Picture" (July 2022)
Outdoor concert featuring favorite movie themes.  Win a chance to conduct the orchestra playing John Phillip Sousa's famous march "The Stars and Stripes Forever". 
 
The Royal Gorge Region's First Ever Symphony Orchestra
Come Hear The Best Of Classical And Contemporary Favorites