About Us
Royal Gorge Philharmonic


Southern Colorado's Symphony Orchestra
Bringing Classical Music To The Royal Gorge Region
The Royal Gorge Philharmonic Story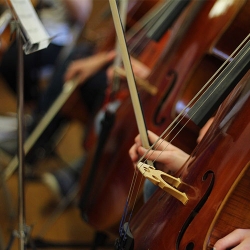 Close your eyes and imagine yourself in a performance hall with wonderful acoustics listening to a professional symphony orchestra play a moving concert that stirs your soul in only the way that live music can. Now, open your eyes and realize that you can enjoy this evening without a long drive home through the mountains or the added expense of a hotel room.
The Royal Gorge Philharmonic provides the local community with professional level classical music events that appeal to all ages in Fremont County, Colorado without having to spend the extra time and expense to drive to Colorado Springs or Denver in order to experience top level musical performances.
The Philharmonic is made up of local professional musicians from all over Colorado. Please visit our employment page if you are interested in auditioning to be a part of our exciting organization. 
The Royal Gorge Philharmonic is a professional symphony orchestra that will be based in Cañon City, Colorado performing live classical music concerts at the Steeple Event Center at 701 Macon Ave. as well as at outdoor venues in Fremont County.
The Royal Gorge Philharmonic provides creative and diverse programming for each event. Concerts often feature new works for Philharmonic Orchestras. Each concert presents the context in which the music was composed and performed, including historical events, artwork, and landscapes that influenced the composers. 
Support Your Local Music Community!
Are you a local business owner or community member that believes in the importance of the fine arts? The Royal Gorge Philharmonic needs your help! Our partnership with you will play an integral part in the success of bringing these concerts to our city.  Please visit our donation page to be a part of the excitement that the symphony can bring to our community.
We will also have marketing opportunities available to our sponsors and other local businesses to gain exposure to our audiences in our full color season programs that will be distributed at all performances throughout the season. These will be full color, high quality, magazine style programs that will showcase your business as a supporter of the arts in a professional way.
If you have time in your schedule and a passion for music in your heart, The Royal Gorge Philharmonic would love to have your help as a volunteer. We will work with you to find how your talents can best help the Philharmonic to succeed.
Mission Statement
The Royal Gorge Philharmonic serves greater Fremont County and Southern Colorado from its main performance venue in Cañon City providing a series of affordable classical concerts as well as free outdoor live music events performed by professional musicians from Colorado.
Vision Statement
The Royal Gorge Philharmonic seeks to enhance the quality of life in the City of Cañon City by developing awareness, appreciation, and preservation of classical music in our community with an emphasis on building a well informed and enthusiastic audience for current and future generations.
A Decades Long Love For Music
Our Conductor
Gerald Willis is an esteemed conductor and the founder of the Royal Gorge Philharmonic. After decades of service as a music educator and director, most recently teaching music education and conducting at California State University - Los Angeles, Gerry moved to Southern Colorado with a goal to bring top level classical music to Cañon City, Colorado. 
Over the past 40 years, Gerry Willis has conducted music groups from coast to coast. From Washington D.C. and Presidential Inaugurations to middle school band competitions, Gerry is passionate about educating and sharing the gift of music with as many people as possible. He is also gifted in composition and arranging music, so the Royal Gorge Philharmonic will play many of his original compositions.
Classically Trained Violinist
Our Concertmaster
Leslie Woodhull, graduate of The Juilliard School for violin performance, will be leading the Royal Gorge Philharmonic as the Concertmaster. Leslie has played the violin professionally with a multitude of musical groups in California and Utah over the past few decades and is bringing her musical leadership to Southern Colorado.
Leslie has performed with The Los Angeles Philharmonic, The Hollywood Bowl Orchestra, The Redlands Symphony, The Riverside Philharmonic, The San Bernadino Symphony, and many others. Leslie has also performed with many great artists including Ray Charles, The Moody Blues, Natalie Cole, Whitney Houston, and others.
The Steeple Event Center In Cañon City, Colorado
Our Performance Venue
Performing arts, such as classical music, contribute highly to a community's culture, growth, and overall quality of life. The Royal Gorge Philharmonic is a professional symphony orchestra that will provide support in enhancing the quality of life and success, both economically and socially, through a series of top-level musical performances in affordable concerts and free live music events. 
As an organization with most members hailing from Cañon City, Colorado, the Royal Gorge Philharmonic will hold most of its concerts and events downtown, at the Steeple Event and Conference Center located at 701 Macon Avenue.
Classical music is best described as music that's written to be performed in concert halls and opera houses by orchestras, choruses, singers, and solo instrumentalists. It is an art that is best experienced live and in places with natural acoustics. 
The Steeple Event Center in downtown Cañon City is the perfect place to host a professional symphony orchestra with a large stage area and seating for up to 400 music lovers to appreciate classical music in the heart of Colorado. This live music performance venue is just steps away from the historic St. Cloud hotel across the street. This means that our concerts are an easy walking distance to the shopping and dining available on historic Main Street in downtown Cañon City.
Music lovers and enthusiasts will never have to worry about driving for hours and expensive hotel accommodations anymore. The Royal Gorge Philharmonic is bringing you the passion and talent of our local professional musicians at the Steeple Event and Conference Center right here in Cañon City, Colorado.
Accessible Classical Music With The Royal Gorge Philharmonic
Bringing the Music to Southern Colorado
The Royal Gorge Philharmonic is Colorado's newest orchestra, showcasing classical musicians in the heart of the Royal Gorge Region. Performing in beautiful downtown Cañon City, The Royal Gorge Philharmonic is thrilled to bring a new cultural experience to the foothills of the Rocky Mountains. 
In the past, residents of this region would have to travel hours for a classical musical experience, and spend hundreds of dollars to hear expert woodwinds, strings and horns. We are pleased to make this a more accessible outing for residents and visitors in Southern Colorado. 
Our talented conductor and concertmaster have spent years performing classical music and have a deep appreciation for the music and musicians that play it. With them at the helm of the Royal Gorge Philharmonic, you are guaranteed a world class classical music experience when you come to one of our performances.
The Royal Gorge Region's First Ever Symphony Orchestra
Come Hear The Best Of Classical And Contemporary Favorites