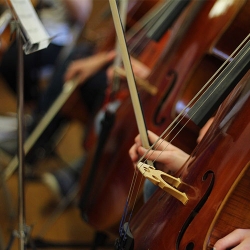 Close your eyes and imagine yourself in a performance hall with wonderful acoustics listening to a professional symphony orchestra play a moving concert that stirs your soul in only the way that live music can. Now, open your eyes and realize that you can enjoy this evening without a long drive home through the mountains or the added expense of a hotel room.
The Royal Gorge Philharmonic provides the local community with professional level classical music events that appeal to all ages in Fremont County, Colorado without having to spend the extra time and expense to drive to Colorado Springs or Denver in order to experience top level musical performances.
The Philharmonic is made up of local professional musicians from all over Colorado. Please visit our employment page if you are interested in auditioning to be a part of our exciting organization. 
The Royal Gorge Philharmonic is a professional symphony orchestra that will be based in Cañon City, Colorado performing live classical music concerts at the Steeple Event Center at 701 Macon Ave. as well as at outdoor venues in Fremont County.
The Royal Gorge Philharmonic provides creative and diverse programming for each event. Concerts often feature new works for Philharmonic Orchestras. Each concert presents the context in which the music was composed and performed, including historical events, artwork, and landscapes that influenced the composers. 
Support Your Local Music Community!
Are you a local business owner or community member that believes in the importance of the fine arts? The Royal Gorge Philharmonic needs your help! Our partnership with you will play an integral part in the success of bringing these concerts to our city.  Please visit our donation page to be a part of the excitement that the symphony can bring to our community.
We will also have marketing opportunities available to our sponsors and other local businesses to gain exposure to our audiences in our full color season programs that will be distributed at all performances throughout the season. These will be full color, high quality, magazine style programs that will showcase your business as a supporter of the arts in a professional way.
If you have time in your schedule and a passion for music in your heart, The Royal Gorge Philharmonic would love to have your help as a volunteer. We will work with you to find how your talents can best help the Philharmonic to succeed.
Mission Statement
The Royal Gorge Philharmonic serves greater Fremont County and Southern Colorado from its main performance venue in Cañon City providing a series of affordable classical concerts as well as free outdoor live music events performed by professional musicians from Colorado.
Vision Statement
The Royal Gorge Philharmonic seeks to enhance the quality of life in the City of Cañon City by developing awareness, appreciation, and preservation of classical music in our community with an emphasis on building a well informed and enthusiastic audience for current and future generations.