Classical Music In The Heart Of Colorado
The Royal Gorge Philharmonic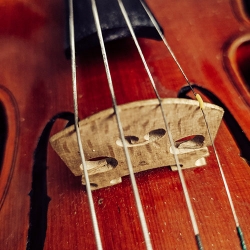 A symphony orchestra is more than just a group of musicians. It opens a doorway to another time, when going to hear the orchestra play was the highlight of the week. In a time without smartphones, television, or radio, it was both a learning experience and a special occasion.
The Royal Gorge Philharmonic seeks to occupy that same space in the lives of the people of Cañon City and beyond. Whether you come to hear fate knocking ominously at the door as the full orchestra plays the first four notes of Beethoven's Symphony No. 5, the sprightly, jumping theme of Mozart's "Eine Kleine Nachtmusik," or even the bassoon solo at the opening of "The Rite of Spring," you'll be whisked away on a musical journey to the outskirts of your imagination.
Now close your eyes and imagine yourself in a performance hall with wonderful acoustics listening to a professional symphony orchestra play a moving concert that stirs your soul in only the way that live music can. Now, open your eyes and realize that you can enjoy this evening without a long drive home through the mountains or the travel expense of a hotel room.
Classical Music In Cañon City, Colorado 
Comprised of local professional musicians from all over Colorado, the Royal Gorge Philharmonic provides the local community with professional level classical music in Fremont County and Cañon City with events that appeal to all ages. Concerts will be performed live at the Steeple Event Center at 701 Macon Ave. as well as at outdoor venues in Fremont County.
Events are tailored for all interests and feature guest soloists, world music premiers and special "theme" events for young and old alike!  Each concert presents a pre-performance lecture about the composers, context, historical events, artwork, and landscapes that influenced the composers. 
The Philharmonic is currently forming a roster of musicians for the 2022 Concert Season beginning in January. Please visit our employment page if you are interested in auditioning to be a part of our exciting organization. Click here to apply on the employment page and schedule an audition.
The First Philharmonic In The Royal Gorge Region
Though there are many talented bands and musicians that perform in Cañon City, we are proud to be the first classical music organization to begin regular performances in this beautiful part of Colorado. As an organization with most members hailing from Cañon City, or the surrounding areas of Fremont County, the Royal Gorge Philharmonic will hold most of its concerts and events downtown, at the Steeple Event and Conference Center located at 701 Macon Avenue. 
The Steeple Event Center has a large stage area and seating for up to 400 people, making it an optimal location for anyone who wishes to enjoy the soothing sounds from the strings of a violin, the vibrations from percussion, or the impressive high notes from sopranos. 
A World Class Symphony In The Royal Gorge Region
It is part of our mission to provide the citizens of Cañon City and its nearby areas the opportunity to experience the best of classical music from a professional symphony orchestra through world-class concerts and events that are affordable and accessible to all the members of our community. 
"…music is not part of "arts and entertainment" as the newspaper section would have us believe. It's not a luxury, a lavish thing that we fund from leftovers of our budgets, not a plaything or an amusement or a pass time. Music is a basic need of human survival. Music is one of the ways we make sense of our lives, one of the ways in which we express feelings when we have no words, a way for us to understand things with our hearts when we can't with our minds."

Welcome address at Boston Conservatory, given by Karl Paulnack, pianist and director of music division at Ithaca College
Accessible Classical Music With The Royal Gorge Philharmonic
Bringing the Music to Southern Colorado
The Royal Gorge Philharmonic is Colorado's newest orchestra, showcasing classical musicians in the heart of the Royal Gorge Region. Performing in beautiful downtown Cañon City, The Royal Gorge Philharmonic is thrilled to bring a new cultural experience to the foothills of the Rocky Mountains. 
In the past, residents of this region would have to travel hours for a classical musical experience, and spend hundreds of dollars to hear expert woodwinds, strings and horns. We are pleased to make this a more accessible outing for residents and visitors in Southern Colorado. 
Our talented conductor and concertmaster have spent years performing classical music and have a deep appreciation for the music and musicians that play it. With them at the helm of the Royal Gorge Philharmonic, you are guaranteed a world class classical music experience when you come to one of our performances.
The Royal Gorge Region's First Ever Symphony Orchestra
Come Hear The Best Of Classical And Contemporary Favorites